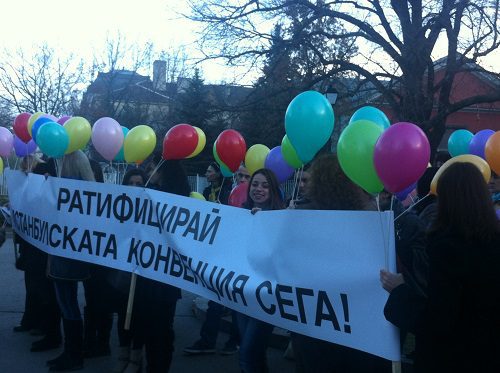 16-days Campaign of the United Nations on violence against women started today
On 22nd of November 2013 in Bulgaria started a 16-days campaign of the United Nations concerning the violence against women. The campaign was organized by the Bulgarian Platform of the European Women's Lobby and the Alliance against gender based violence, which member is the Bulgarian Fund of Women.
With peaceful demonstration in front of the Parliament with colorful balloons and a banner stating "Ratify the Istanbul Convention NOW!" representatives of NGOs from all over the country insisted on ratification of the Convention of the Council of Europe on preventing and combating violence against women and domestic violence.
The day continued with a discussion meeting at the Ministry of Labour and Social Policy with the participation of Deputy Minister Lazar Lazarov and Iveta Dicheva, representing the Deputy Minister Sabrie Sapundzhieva. Mr. Lazarov pointed out that according to the European Institute for Gender Equality between 12 and 35% of women in Europe suffer from domestic violence. Deputy Minister confirmed that a bill against violence is prepared and he relies on NGOs to give their expert opinion on it in order for Bulgaria to meet the requirements of the UN.
The discussion in the Ministry of Labour and Social Policy is one of a series of public events united under the slogan, which will be held within the 16-days Campaign in 33 countries in Europe and organized by the European Women's Lobby, the Council of Europe and supported by the Finnish government. The focus of the events in each country will be placed on sexual assault and domestic violence. Studies by various international organizations suggest that one in four women in the world is a victim of domestic violence. Analysis of the European Women's Lobby notes that only between 2 to 10% of women rape victims turn to law enforcement. Most cases of sexual abuse against women remain unsolved and sexual violence – an underestimated problem.