Over €666 296 was allocated to the civil sector in 2022 by BFW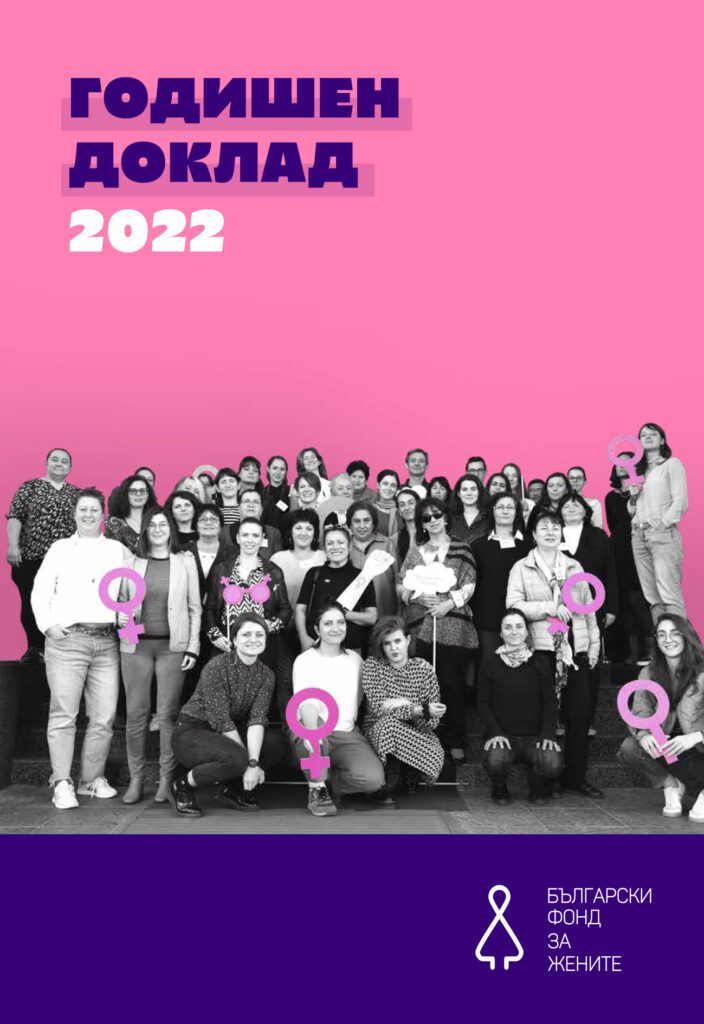 Over €666 296 was allocated to the civil sector in 2022 by Bulgarian Fund for Women (BFW). The financial resources, marking a 54% increase compared to 2021, reached 100 partners of the Fund from all over the country – well-established and newly established organizations, as well as activists and groups that are not registered as NGOs – through 118 direct grants.
Having become a central part of the BFW's funding mechanisms, the "Mission: Possible Program" for covering administrative and organizational needs marked its third edition in 2022. Addressing costs often overlooked by project funding, such as salaries for the team, office rent and the purchase of equipment, allows organizations to focus on their mission and goals, to plan long-term and strategically. In 2022, Mission: Possible supported with flexible funding 12 organizations (new and approved for refinancing from the first edition) with a total of €316 962.
Undoubtedly, one of the events that marked last year was the beginning of Russia's war against Ukraine. In February 2022, civil society organizations in Bulgaria found themselves on the frontline again – they had to redirect their efforts from recovering from the pandemic and their daily activities to providing emergency assistance to Ukrainian citizens arriving in Bulgaria. Immediately after the Russian invasion, BFW opened an "Urgent Fund for Women and Children Affected by the War in Ukraine", through which we supported the fieldwork of 20 organizations from 9 settlements with over €103 000.
A number of organizations also won funding from BFW's open calls for "Marking 8th of March", "Tackling Violence Against Women" and "Open Opportunities" program for unforeseen changes and challenges and implemented their projects. In 2022, the second edition of the "Fund for Artistic Projects by Women Artists" was held under the title "State of Emergency", within which 10 conceptual projects of women artists were realized and then, in 2023, became part of the exhibition "Needles in a Haystack" in the National Art Gallery, the Palace.
In its effort to provide both funding and opportunities for capacity and community building, BFW organized a number of trainings and events. These include the "A Breath of Fresh Air" and "Equality and Climate Justice" programs, focusing on the intersections between women's rights and the climate crisis; The "Community Development Program", aimed at mobilizing communities to solve societal problems, the "Feminist Boot Camp All Starts" and BFW's Grantee Meeting, which provided a space for networking, reflection, sharing experiences and ideas among participants in the women's movement. BFW's total investment in direct funding and capacity-building for the civil sector amounts to 69% of the Fund's over €1 million budget for 2022.
And the results were not long in coming – BFW's partners organized marches, protests and other significant events, worked to advocate and raise awareness of women's and human rights issues, supported thousands of Ukrainian refugees and other vulnerable groups, mobilized communities, implemented projects to address the climate crisis, conducted thematic research and produced reports describing the intersecting challenges faced by our society, and much, much more. Together, through our collective efforts, we reached 65,854 direct and 1,811,897 beneficiaries in 2022.
Last year, BFW did not give up on its efforts to raise awareness and do advocacy. BFW Conducted three national campaigns related to mental health, the work of civil society and combating domestic violence, with a special focus on the latter. The Fund organized an event with MPs and over 120 guests on the topic of dealing with gender-based violence and domestic violence, distributed over 9,000 free copies of the "Love Errors" book, supported the Draft Law for Amendments to the Law on Protection from Domestic Violence with positive statements. BFW worked on projects related to the rights of migrant women and women from other vulnerable groups, the challenges faced by organizations in a crisis situation, the counteraction of fundamentalism and the extreme right, as well as the strengthening of the civil association RavniBG.
All this would not have been possible without the help of BFW's supporters! In 2022, the Fund was supported by 24 international donors, 13 corporate and 101 individual donors, mobilizing a total of €1 821 194 – 58% more than in 2021. BFW's team expresses its immense gratitude to all those who recognize the cause and support the mission and the vision of the Fund!
Read the full Annual Report HERE to learn more about these and other achievements of Bulgarian Fund for Women in 2022.