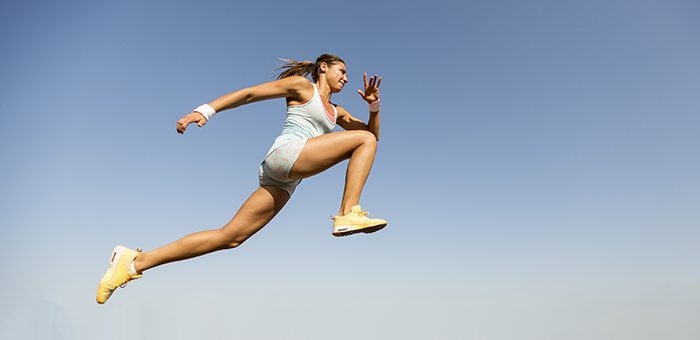 Women and Sport: The Track of Inequality and Stereotypes
Sport has traditionally been a male-dominated sector and progress in gender equality in this area has been hampered by social constructs of femininity and masculinity, which often link sport to "male" characteristics such as physical strength and endurance, speed, and a highly competitive, sometimes confrontational spirit. Women who play sports can be perceived as "masculine", while men who are not interested in sports could be considered "non-masculine".
The prevailing stereotypical perception of gender has an impact not only on women's participation in decision-making in sports organizations, but also on their participation in sport activities. Traditional gender roles could dictate how many hours women spend caring for their families, which affects the time they have left for sport activities. The European Institute for Gender Equality (EIGE) index clearly shows that while women spend more time caring for their families than men, therefore they are less likely to participate in other social activities such as sports, culture and leisure.
This is stated in the publication "Gender Equality in Sport", developed by the European Institute for Gender Equality. See the full text of the report HERE
Sport promotes interaction between different social groups and improves physical and mental health, which is important for both young people and adults, for women and men. It can also promote education, communication, negotiation and leadership skills, which are crucial for women's participation in political and economic life.
Men dominate the coaching profession
Coaching is an area of sport where women are largely underrepresented. Based on values in seven EU Member States, it is estimated that only 20-30% of all coaches in Europe are women. They are most common in sports where women make up a high percentage of participants (e.g., sport dancing, rhythmic gymnastics, figure skating and equestrian sports), and mainly work with women, adolescents or children who compete on local and regional level. In addition, there are more men employed in sport than women – data from the European Institute for Gender Equality's gender statistics database show that, at European level, between 2012 and 2014, women's employment in sport actually decreased, and men's employment has increased.
Women are isolated from management positions
Despite the gradual increase in women's participation in sport, they remain under-represented in the governing bodies of sports institutions at local, national, European and global levels. Data from the report on the exercise of power and decision-making by women prepared by the European Institute for Gender Equality for the Luxembourg Presidency of the Council of the EU show that women account for an average of 14% of decision-making posts in the continental confederations of Olympic sports in Europe. Of the 28 countries surveyed, there is only one female chairperson and eight vice-chairpersons out of a total of 91. These figures reflect trends in other areas of governance, such as the higher the position, the greater the gender inequality. In the Member States, the representation of women among top management positions in sports organizations remains very low. On average in 2015, only 14% of all positions were held by women, ranging from 3% in Poland to 43% in Sweden.
Fortunately, Bulgaria is relatively well represented in this regard, ranking 6th among EU member states after Sweden, the Netherlands, Finland, France and the United Kingdom. The data show representation in the 10 most popular national sports federations in the respective countries in 2015.
Stereotypes in the media keep women "out of the game"
The media can play a significant role in reinforcing or challenging gender stereotypes in sport. In fact, the stereotypes of female and male athletes created by the media are well documented and the approach to female athletes is often sexist.
They are usually presented in a way that contributes to the marginalization of women's achievements in sport due to the emphasis on femininity and sexual attraction, rather than on strength and skills. There are also significant differences in the media coverage of women's and men's sports, with men receiving much more attention. The lack of women in sports journalism is another problem. At the 2012 London Olympics, only 15% of journalists and photographers were women.
Another publication, entitled "Barriers to Women's and Girls' Participation in Sports Activities" by the British Foundation for Women's Sports and Fitness, reveals the reasons that lead to fewer women in professional sports and training for health and pleasure. They group barriers to women in several key areas: practical barriers, personal and socio-cultural barriers.
More responsibilities, less time for fun and entertainment
Among the practical limitations for women, the authors of the publication list: most domestic duties and those related to raising children or caring for elderly relatives that hinder women; less funding (because women earn less than men all around the world); In many parts of the world, women also have more transport difficulties and consequently, a lack of a private car to reach training grounds and public sports facilities. This is especially true for young girls, older women and women from remote areas. The situation of women with mobility problems or disabilities is even more difficult.
In some parts of the world, to overcome these obstacles, women organize informal groups of "running sisters" that allow them to play sports cheaply and flexibly in a friendly supportive environment. Security is another issue standing in the way of regular sports activities for girls and women. In many parts of the world, traveling by public transport or moving on the streets, especially in the late hours, carries risks that are exacerbated for minority girls or those with disabilities who are at additional risk of bulling or assault.
Insufficient funding
There is substantial evidence that women's sport attracts much less funding than men's. Girls' teams have less sponsors and business support than boys' teams because their base of supporters is smaller, as is their coverage in the media. This leads to a vicious cycle in which training conditions, equipment and all necessary materials are underfunded and therefore attract even fewer girls willing to play sports.
In many sports centers, men are prioritized and provided with more comfortable training hours, which further hinders women who are already busier with domestic and care work.
Personal limitations: body perception and image
Several studies show that teenage girls experience much more insecurity and uncertainty about their appearance. For many girls and women, the way they look, and their physical activity put them in a vicious circle. The more they pay attention to their appearance, the higher the requirements for what they look like. Their own expectations, together with other people's opinions, prevent them from training diligently and showing their body.
Western fashion for sportswear is increasingly exposing the female body. This often attracts unwanted sexual attention. The display of idealized and unrealistic female bodies in the media and advertisements, on the one hand, sexualizes and, on the other hand, makes girls have high expectations of themselves. This can drive them to not finding their bodies beautiful and worthy of the eyes of others. Girls are also more likely than boys to tend to compare themselves to others and be influenced by adults' comments about their performance and appearance.
Girls and women are generally perceived as less competitive than men, and for some of them this is a reason to give up regular sports – because they do not want to enter such direct and fierce competition with other girls or boys.
Social and cultural barriers
In many communities, sport is so dominated by men that girls don't find a place for themselves in it. For some girls, their athletic success and competition with boys are considered strange or unfeminine. This is also the result of widespread stereotypes in most societies around the world.
There has been a lot of talk lately about high levels of sexual violence and harassment in sports. There are not enough studies on the subject, but there are many examples of girls who refuse to play sports due to attempts of sexual violence or sexual attention by coaches, other young people or adults.
Last but not least, women remain invisible with very few exceptions in the world of sports. They are neither covered in the media as men are, nor are there enough role models for girls to be inspired and learn. According to data from the UK, only 4% of media publications are dedicated to women athletes.
A good example from Bulgaria
There are far fewer women than men in running competitions in Bulgaria. We know that there are many reasons for this, commented the Runner Sports Club, but we want to inspire more women to try it out. Therefore, together with BIODERMA they created the first run exclusively for women, which has been held in Sofia since 2019.
BIODERMA Women's Run 2021 is coming up on Saturday, June 26. The start is at 09:00 from the National Palace of Culture.
The third edition of the Women's Run has a charitable purpose. The cause for which the Run raises funds is the initiative School Without Borders of the CHILDREN WITH ONCOCHEMATOLOGICAL DISEASES ASSOCIATION, which aims to provide children undergoing cancer treatment, the opportunity to continue their education in a hospital environment. Every year more than a hundred children hear the terrible diagnosis and start a battle for their lives. In this difficult path, they are deprived of their friends, social life and educational process, since after 2017 the hospital schools in the country have been shut down.
The third edition of Women's Run comes with new categories and opportunities for participation. Here is what the organizers have prepared:
5 km speed distance;
3 km speed distance – the well-known category, accessible to all enthusiasts;
Mom & I – run with children up to 10 years of age at a distance of 3 km;
Teen Girls Run – a competition for girls from 10 to 15 years old, 3 km;
The most original costume – a special fashion jury will award the three most daring and extravagant participants.
The winners in all categories will receive BIODERMA products, enough for a whole year, and the runners-up in second and third place – products of the brand worth 200 leva.
You can book your number now at www.bioderma-womensrun.bg. For all women 50+ the participation is free!
The Bulgarian Fund for Women is a partner of the initiative.
Get involved, play sports and support!
Photo: Jazzercise