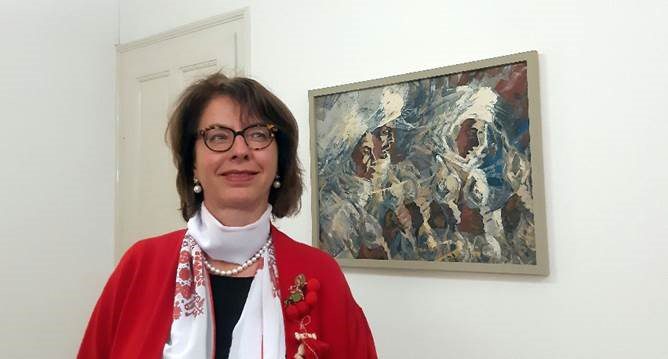 HE Muriel Berset Kohen, Swiss Ambassador: Young people now don't accept discrimination and gender inequalities
The Embassy of Confederation Switzerland in Bulgaria became a partner of the Bulgarian Fund for Women and financially supported a project part of the series of initiatives to celebrate 8 of March – International Women's Day. Following the Open Call of the Bulgarian Fund for Women for conceptual projects announced in January 2021, in which a record 112 proposals were received, 20 bold ideas were selected to be implemented in March to celebrate political, social, scientific and cultural achievements of women in Bulgaria and around the world.
Among the initiatives are the following: development of women's entrepreneurship; support and social engagement of women with mental disabilities; developing and presenting interactive materials revealing the challenges and rights of women from the past and today to 120 teachers and youth workers from all over Bulgaria; promoting the UN Global Goals for Sustainable Development, including gender equality, through a series of online youth quizzes; mentorship mutual aid between women victims of domestic violence; the place of women in science and STEM, the stories of women farmers and organic food producers.
We from the Bulgarian Fund for Women invited Her Excellency Muriel Berset Kohen, Ambassador of the Switzerland to Bulgaria to give a short interview for us, in which to share with our community why the Embassy decided to support the BFW's initiative and also to present Her country's perspective and experience on women's rights, gender equality policies and the contemporary challenges we all face.
Your Excellency, first of all we would like to thank on behalf of the Bulgarian Fund for Women and the beneficiary organizations in our Call for projects, dedicated to March 8, for the support provided by the Embassy of Switzerland in Bulgaria! What made you stand behind this cause and the Call of the Bulgarian Fund for Women?
Promotion of Human rights is a priority for the Swiss foreign policy in general and this year is special in Switzerland because we celebrate the 50th anniversary of the right of women to vote and be elected at national level.
Tell us more about this historic event and its connection to today's efforts to achieve gender equality.
It sounds quite strange that a country like Switzerland granted women the right to vote only 50 years ago, long after many countries around the globe. The difference is that in Switzerland, with our direct democracy, men had to vote to grant women the right to do the same! As our beautiful country is rather conservative, it took some time, like 100 years! In 1868, the women of Zurich first demanded the right to vote when the cantonal constitution was revised – without success. Several initiatives followed by associations and groups and women had the right to vote at cantonal level in a number of cantons. In 1957 the government submitted a bill on women's suffrage. The project was approved by both parliamentary chambers in 1958 but on 1 February 1959, male voters refused women the right to vote. You see, a long struggle! In 1971, finally, we achieved it!
The team of the Embassy of Switzerland approached with great sympathy a specific project of the LevFem collective to organize a Women's strike as a tool for defending political positions and winning women's rights. Women are part of the labor market, but also are part of society who performs the vast majority of unpaid work – caring for children, elderly relatives, those with disabilities, housework, helping children with distance education in COVID pandemic, etc. Switzerland actually has experience with such a Women's strike? Tell us more.
I still feel a lot of emotion when I remember 14 June 2019: hundreds of thousands of women and also men went out in the streets of all main cities in Switzerland and asked for full equality. Participation was massive, from elected women to teenagers. Even the Swiss Parliament stopped for 15 minutes. Since 14 June 1981 equality is enshrined in the Swiss Constitution. 10 years after, there was a first national strike to ask for implementation of the Constitution and almost 40 years after that, we still face inequalities. For young people now, it is not understandable and acceptable to see that discrimination and gender inequalities still exist. I am very optimistic with the young generation!
What do you think are the current challenges in achieving gender equality?
On one side, it is a deep social perception change, which is needed on the traditional role of women and men. Men and women should be allowed by their family, friends and society to do what they want, not because of the sex there were assigned to by birth, but following their individual choice. It would free men as well as women. On the other side, we have to be careful to keep and develop the legal framework favorable to equality and rights. In difficult social and economic times, there is a tendency to fall back in old social patterns, deeply rooted since thousands of years.
We Bulgarians have always looked with great respect and sympathy for Switzerland. Can you give us examples of certain policies and legislative practices that accelerate the process of achieving equality in your country? We are talking about both economic equality and representation in political governance, taking decision-making positions in business, etc. But also the elimination of some manifestations of systemic inequalities – stereotypes, patriarchal norms, gender-based violence, discrimination and others.
A suitable legal framework is a must, but it is not enough. Everybody should feel compelled to implement it. Examples are very important: participation and representation of women in political parties and election lists, in elected bodies, in all public events. Gender neutral teaching at school… It starts with education of girls and boys in the family anyway.
In a country like Switzerland, 14 June 2019 strike was really compelling like a bell ringing that girls and women are not ready to wait for 40 more years to achieve equality. In my personal opinion, in some cases imposing quotas can be a good interim solution to implement equality enshrined in the legal framework.
What is the role of civil society and non-governmental organizations in achieving social change in an area as large as women's rights?
It's of crucial importance of course. Civil society can bring forward new topics, gives a voice to thousands of voiceless women, resists backward trends and alerts society on those developments.
What is your message to Bulgarian women and girls?
You are strong girls and women! You show Swiss women the way forward! Girls, you can dream of any ambition for yourself, just do it!
Photo: Embassy of Switzerland, HE Muriel Berset Kohen