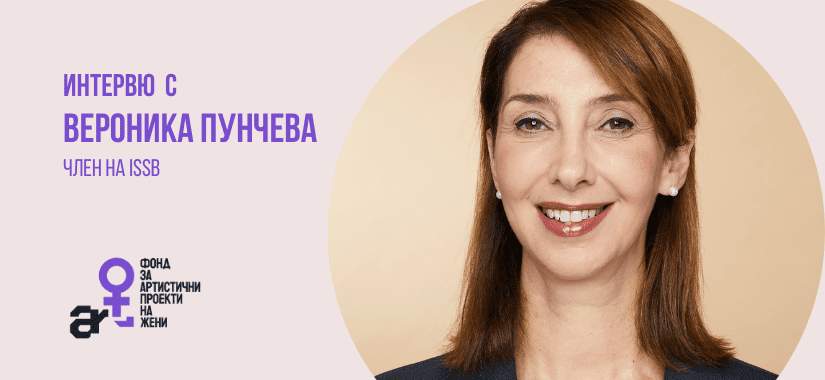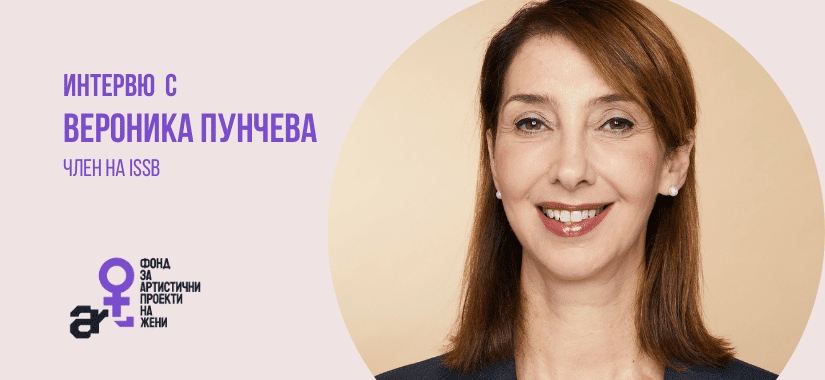 Veronika Pountcheva: Societies that ensure the development of women are more successful and enjoy greater well-being
The results of the second edition of the BFW's Fund for Art Projects by Women Artists have already been announced! The open call named "State of Emergency" aimed to challenge women artists to propose projects for new artworks that deal with topics and issues relevant to our society. BFW will support 10 conceptual projects of 8 female artists and 2 collectives with a value of up to BGN 5,000 per artwork. The approved candidates will have 6 months to realize their work. The finished works will be presented in a general exhibition curated by Svetlana Kuyumdzhieva in 2023.
Today we would like to introduce you to one of the women whose support helps us to realize the second edition of the initiative. Viktoria Petrova from the BFW team met with Veronika Pountcheva, a full-time member of the International Sustainability Standards Board (ISSB) and until recently Senior Vice President "Corporate Development" of Metro AG.
Veronika has been a philanthropist for the rights of women and girls for more than ten years. For the past few years, she has been developing a project in South Africa, where one in ten girls do not attend school during their menstrual period due to the lack of sanitary materials. The initiative partners with a number of local foundations, and with the help of nurses and many volunteers, sanitary products are distributed directly to girls at schools. Currently, the initiative reaches 300 000 girls, but the goal is to grow the campaign even further.
BFW's Fund for Art Projects by Women Artists is another cause that Veronika Pountcheva supports. Learn more about her motivation in the following interview:
Viktoria Petrova: For more than 10 years now, you have been donating to the rights of women and girls. What prompted you to choose this particular cause?
Veronika Pountcheva: My understanding is that women's rights are human rights and are often underestimated and neglected. At the same time, societies that advance women are more successful and enjoy greater prosperity.
Professionally, I have often observed the different approach to equally talented and committed young girls and boys, which hinders the career advancement of young women and prevents them from developing their full potential. They don't have enough mentors and supporters to guide them and promote their talents.
And last but not least, it is important for me to be able to share my experience and open as many doors as possible to the success of other women and girls.
Victoria Petrova: Why do you think it is important to invest in art projects created by women?
Veronika Pountcheva: Many scientific and creative achievements of women are unknown and invisible to society, and women artists, especially in Bulgaria, have been part of the art world for a relatively short time – less than 100 years. But even in the Western world, important women artists such as Georgia O'Keeffe or Tamara de Lempicka often do not find deserved recognition during the period of their most active work.
Therefore, in my opinion, it is important that the public, critics, and galleries purposefully seek, discuss and offer work created by women.
Victoria Petrova: You collect art. Do you have any observations about the ratio of works created by men to women in your collection? On what basis do you select the works in it?
Veronika Pountcheva: For me, the female creative energy in fine art and sculpture carries a very exciting charge and, especially in recent years, I find real large-scale works by both established female authors and young artists. But when I buy art, the gender of the creator is not a criterion, but rather the impact and message of the work. I really like large canvases, sculpture, photography, plastic, and design, and I am always impressed when authors like Liliana Ruseva, Katarina Grosse, Penka Stancheva, and Zaha Hadid bring energy and inspiration beyond the boundaries of time and space.
Victoria Petrova: Thank you for your time and willingness to support BFW's Fund for Art Projects by Women Artists! We are eager to witness the implementation of the funded projects.