Feminist Boot Camp 2021: Dream Big!
Feminist Boot Camp 2021 gathered 15 young women from all over the country at the sixth edition of the camp, which took place from 5 to 10 July at the Creative House of the Bulgarian Academy of Science near Varna.
The Feminist Boot Camp is an intensive six-day seminar aimed at empowering young women and girls, especially those from vulnerable groups. The participants in the camp had the opportunity to learn more from the best experts, activists and teachers in Bulgaria about feminism and gender theory, the history of women's movements, to discuss the problems of modern women, to discuss gender (in)equality rights, to recognize and oppose various forms of discrimination, including intersectional discrimination, and many other topics. In addition to knowledge, the participants acquired and developed practical skills for creating and implementing projects related to women's rights and achieving gender equality, organizing events, conducting campaigns and more.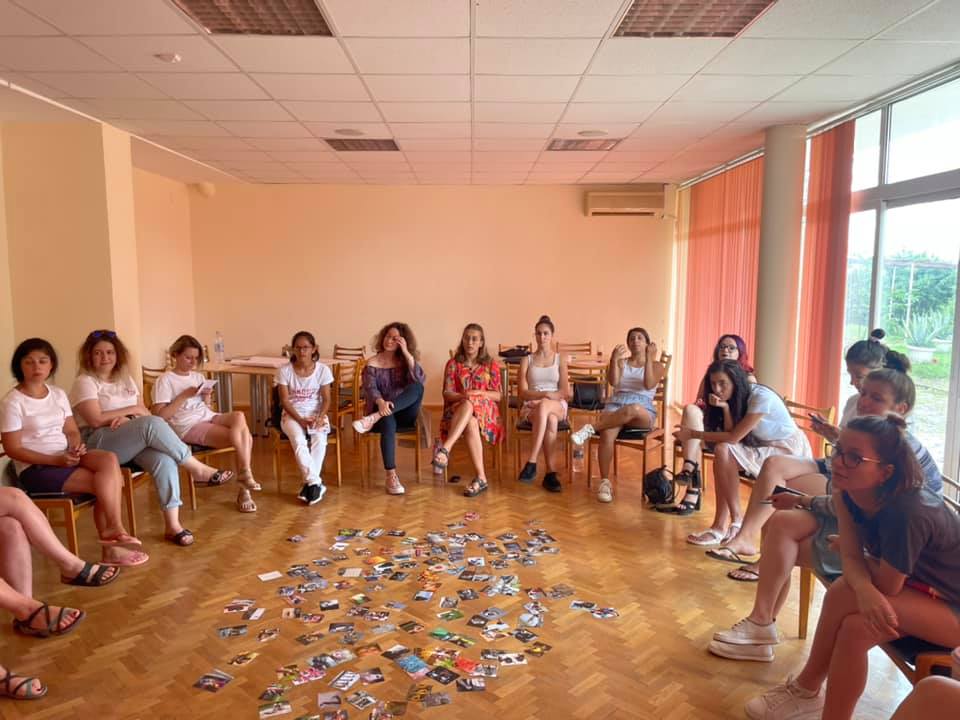 The intensive program and discussions were held with the participation of 11 prominent speakers. Among them were:
Prof. Georgetta Nazarska, Doctor of History at Sofia University St. Cl. Ohridski, Associate Professor of History, Professor of Cultural Heritage at the University of Library Science and Information Technology and Lecturer in the Master's Program Matilda for Women's History and Gender at Sofia University. She gave two lectures: "A History of Women's Rights" and "Women's Movements and Feminism".
Attorney Natasha Dobreva specializes in International Human Rights Law and represents victims of violence before the European Court of Human Rights in Strasbourg. She is part of the Animus Association Foundation's program to provide legal assistance to children victims of violence. Her two lectures were on "Human Rights and (Anti) Discrimination" and "Gender Sensitive Policies".
Daniela Bozhinova, international expert, author and researcher in the field of referendums, political rights and electoral democracy. Vice-President of Democracy International. Co-founder and until recently co-chair of the Green Movement and candidate for MP from the Coalition "Democratic Bulgaria" for the 46th Parliament. She was a special guest at the Boot Camp and spoke about women in politics.
Lea Vaisova PhD is a chief assistant at Sofia University St. Cl. Ohridski, Sociology department. Member and co-founder of the informal feminist group LevFem. Her lecture was on "Intersectional Feminism".
Krassimira Velichkova is the executive director of the Bulgarian Donors' Forum and has extremely extensive experience in the non-governmental sector and its collaboration with various institutions. Her lecture was on "Women and Money".
Olga Mineva is the founder of the NGO EMPROVE, which helps women in abusive relationships and the #WomenSurvivors community. Olga led a practical session at the Boot Camp so the participants could gain more confidence and empowerment to Dream Big!
Ekaterina Vasileva is a participant in last year's edition of Feminist Boot Camp and author of the Polyphem Podcast project – the Bulgarian podcast, which tells the stories of important women from the public and political life in Bulgaria and around the world. She won funding from the Bulgarian Fund for Women for her project within the internal competition for last year's camp. Katya is 19 years old and is a student majoring in Political Science at Sofia University and was a special guest to talk about her experience in implementing her first project after the camp.
Nadezhda Tsekulova is the Director of the Campaigns and Communications Program at the Bulgarian Helsinki Committee, a long time journalist at the Bulgarian National Radio and an activist for improving access to healthcare for vulnerable groups with a focus on child and maternal health. She presented two lectures on "Activism" and "Communications".
Svetla Turnin is a producer, curator, co-founder and CEO of Cinema Politica, an international political cinema distribution network with more than 100 locations worldwide. Her lecture was on "Women and Cinema".
Alexandra Yordanova is a figure skating coach and sports psychologist. She works for a foundation that implements projects for the integration of children and adolescents from minority groups through football. She presented the topic of "Body Positivity".
Kirilka Angelova was the facilitator of the event. She is a trainer in group dynamics and organizational behaviour with many years of experience.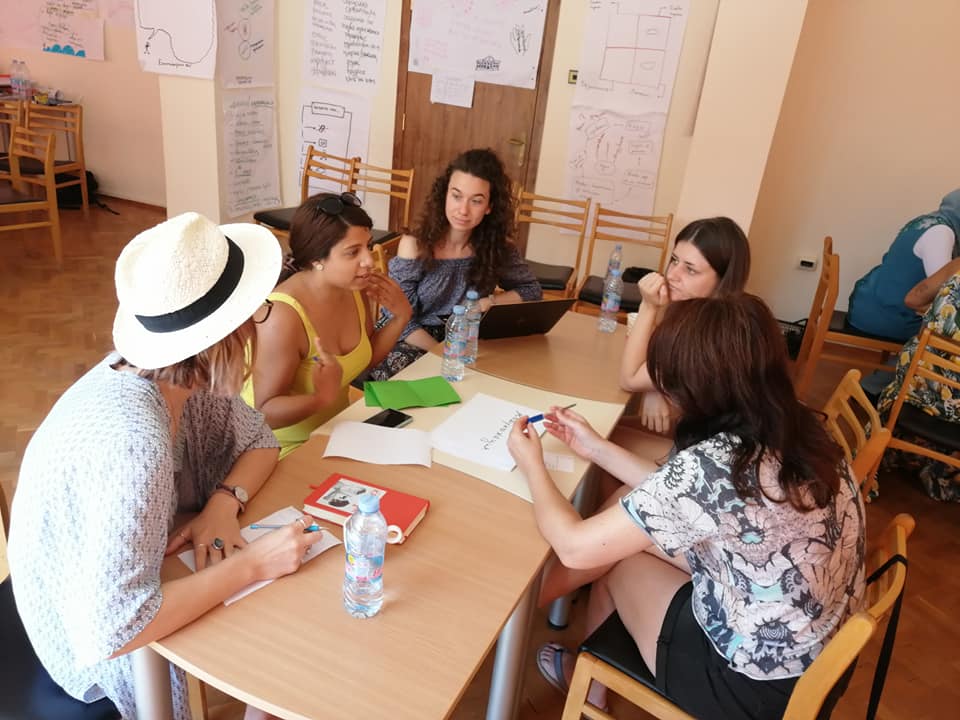 During the Feminist Boot Camp, the participants not only got to know each other, but in a special protected environment and atmosphere of security and trust shared personal experiences and had the opportunity to discuss together with the BFW team their ideas for projects related to the rights of women in Bulgaria. They drew inspiration, ideas and experience from each other and last but not least – they had fun.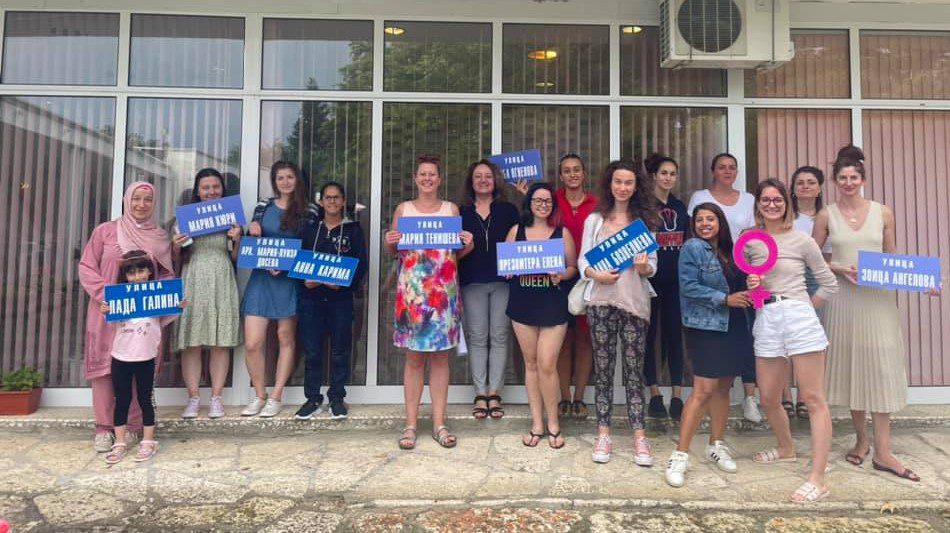 After the end of the camp, the participants, individually or in a team, can apply in an internal competition for financial support for their projects in the amount of up to BGN 3,000, provided by BFW.
The Feminist Boot Camp 2021 initiative is made possible thanks to the support of the Friedrich Ebert Foundation, Bureau Bulgaria and the Global Fund for Women.