BFW's 2021 Annual Report: After a twofold increase in our budget, we provided 134 direct grants and reached 207 351 beneficiaries
Bulgarian Fund for Women (BFW) is the only donor in Bulgaria that exclusively supports activists, grassroots groups and CSOs working to empower women and girls and achieve gender equality in all spheres of life.
BFW's grantmaking and capacity building is driven by the belief that the right kind of support for the collective action of women, girls, LGBTIQ+ people and human rights defenders will lead to profound social, political, cultural, economic, and environmental change – change that is urgently required for a just and equal world.
This is why we direct the resources we mobilize towards small and emerging CSOs throughout Bulgaria. In many cases, we are the first or main – sometimes the only – donor supporting small organizations led by women, girls, or LGBTQ+ that work on contested issues, including the root causes of impoverishment and inequality. Our funding procedures are transparent, accessible, and flexible enough to rise to global challenges. We strive to ensure that emerging organizations can gain momentum, while their more established counterparts have opportunities to enhance their sustainability, strategic planning, and impact assessment.
In 2021, we announced a second call for core funding to address the organizational and administrative needs of organizations working for women's rights. We supported 7 organizations, such as the youth LGBTQ organization "Deystvie" and the Roma women's association "Hayachi" with a total of 218 000 BGN.
Our collaboration with CSOs and women's collectives is guided by our Theory of Change, whose articulation over the course of the last year was as fulfilling as it was painstaking, our regular assessments of our grantees' needs and challenges, and our thematic priorities:
Strengthening Movements
Invisible Issues and Communities
Freedom from Violence
LGBTIQ+ Justice
Environmental Justice
Girls and Young Women Empowerment
Controversial Topics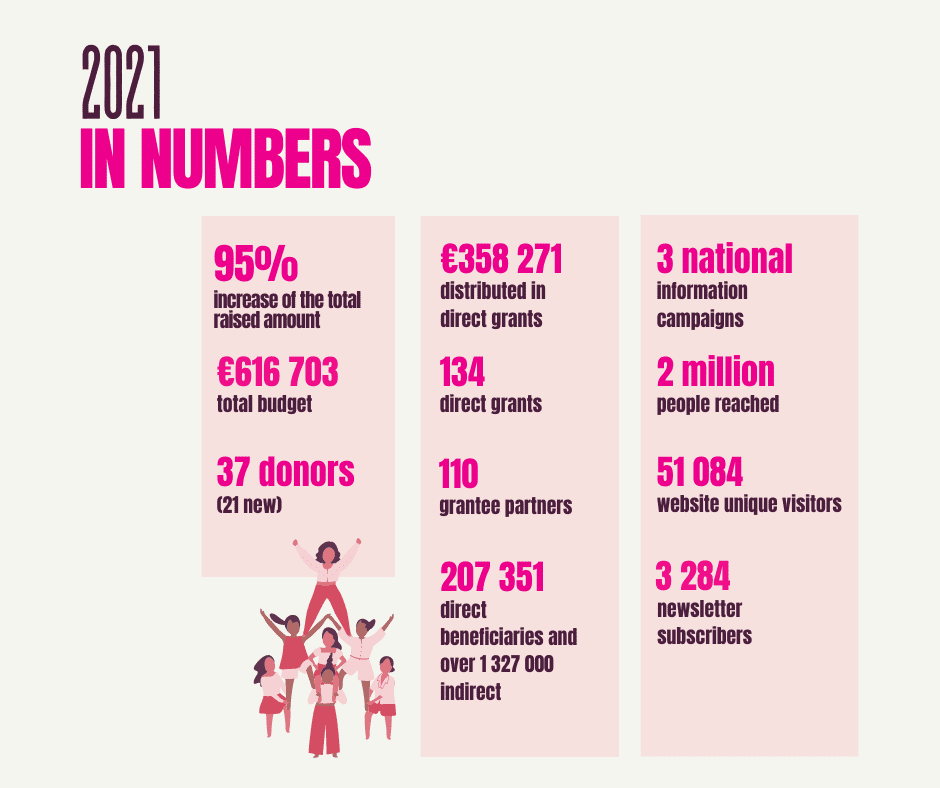 We believe these figures tell a very special story – one of gradual but compelling progress toward a fairer world where the voices of women and girls are heard, and their choices are respected.
To read more about our joint accomplishments during one of our most challenging and uncertain years to date, access the full report here.