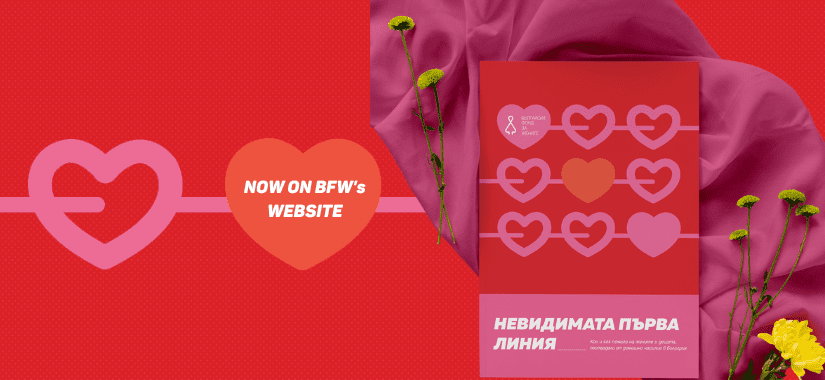 Hundreds of Supported Women Later: The Invisible First Line
In 2021, right before 25th November – the International Day for the Elimination of Violence Against Women, we marked the beginning of the "Invisible First Line"– a charity campaign in support of the crisis and consultative centers in the country that face domestic violence daily while supporting the affected women and children.
For less than a month the campaign raised almost BGN 80 000 from individual and corporate donors and embassies. The Bulgarian Fund for Women increased the amount to BGN 128 657 so that we can address the urgent needs indicated by the organizations.
We distributed the funds around Christmas time among 13 organizations in the whole country. This is who they are:
SOS – Families at Risk Foundation – Varna
P.U.L.S. Foundation – Pernik
BCDI Foundation – Haskovo Branch
Association "Association NAYA" – Targovishte
Open Door Centre Foundation – Lovech and Sofia
Nadia Centre Foundation – Ruse Branch
Mission Wings Foundation – Stara Zagora
Women's Association "Ekaterina Karavelova" – Silistra
Animus Association Foundation – Sofia
Association "Knowledge, Success, Change" – Dupnitsa and Blagoevgrad
"YES" Foundation – Plovdiv
H and D Gender Perspectives Foundation – Dimitrovgrad and Svilengrad
Center Dynamics Association – Ruse
Almost a year and hundreds of women later, we are proud to make you part of the results that the organizations shared with us.
Crisis and consultative support
Time and long-term support are required in order to overcome trauma caused by violence. This is exactly the direction that the organizations we supported work towards, providing (often 24/7) crisis and consultative services. In addition to emergency telephone lines, providing shelter, consultations, and working with expert teams of psychologists, social workers, etc., they provide something very key – hope. Hope that women (often mothers with their children beside them) have where to seek help, safe space, and a sense of security and thus, are being supported to overcome the traumatic experiences and fight for the freedom that life without violence gives.
And the results are quickly becoming apparent – over the past few months, many of the supported women walked a long way, stepping toward leaving a violent relationship, starting work, continuing education, and chasing and realizing dreams. In addition to a new beginning, these steps give them economic independence which reduces the possibility of returning to the perpetrator.
Providing legal support
Part of the efforts of the crisis and consultative centers are directed toward providing legal support to those who suffered from violence. The conduction of consultations, the preparation of court reports, and the filing of lawsuits related to the Law for the Protection from Violence not only contribute to increased confidence in women to seek their rights and stop the circle of violence but can oblige some perpetrators to visit specialized program for perpetrators – a practice that has the potential to address one of the many root causes for violence against women if it gets modified and developed properly.
Providing urgent humanitarian support
Considering the series of crises the organizations had to adapt their work around, it is no surprise that part of the experts' efforts was dedicated to providing basic and humanitarian support to those who suffered from violence. In addition to deepening the problem, Covid-19, the war in Ukraine, and the increasing inflation made seemingly everyday needs such as shelter, food, heating, and water bills, medication, medical check-ups and procedures impossible to meet.
Crisis and consultative centers supported the addressing of basic bills and consumables for the affected – women at risk of poverty, from distant village regions and/or socially excluded, single mothers, elderly women, women with disabilities. This help allowed them to focus not on worries related to meeting basic needs, but on setting the basics of a new, independent life.
"The support [of the donors] is important for those who work in organizations like ours as well – every day we face a lot of pain, fear, shame, and guilt but we do not give up and continue to help. It is very important to us that you saw the "Invisible First Line". We thank you from the bottom of our hearts." – shares one of the supported organizations.
Tackling domestic violence – a responsibility of the whole society
The fact that providing complex support requires the involvement and active participation of psychologists, social workers, lawyers, policemen, mayors, and other institution representatives proves that violence is not a problem of the family but of our whole society. It affects us all and it is up to each one of us to contribute to its elimination.
"We truly value the help of each donor who supports those affected by domestic violence to overcome difficult times. Domestic violence is not a personal problem that should stay locked between the four walls of the home. It deprives many women and their children of the opportunity to live peacefully, not to be afraid, and not to be hurt" – shares a specialist from one of the supported organizations.
We at BFW express our hope that regardless of the political situation in the upcoming months, the State and the members of Parliament will pay serious attention to this complex and urgent problem, will provide the needed long-term support to the organizations working at the first line against violence and will accept the long-awaited proposals for alterations to the Law for the Protection from Violence.
"The Invisible First Line" Book
As part of the campaign, we created a book that tells the stories of those people we do not hear enough about – the social workers, psychologists, lawyers, and everyone else who remains right by the side of the women on their long and difficult journey of freeing from violence and setting the basics for a new life. We are proud to share it with you all for the first time. The Invisible First Line can be downloaded HERE (in Bulgarian). We believe that even though difficult to read, the stories give hope – that many women have overcome violence and many more can do it as long as they make the first step. You are not alone. There is someone to listen to you! Seek help. We must not stop talking about the topic.  
Funding Opportunities
Since its establishment in 2004, BFW has worked toward a systematic and more effective fight against all forms of domestic violence and gender-based violence. At the moment we have an open call for funding projects for prevention and tackling violence against women, girls, and other vulnerable groups in Bulgaria!
The total amount of the fund is BGN 160 000 and each approved organization will receive funding of up to BGN 20 000. Learn more and apply HERE.
Support us so that we can continue to help women who experienced violence. Donate via bank transfer or PayPal HERE.