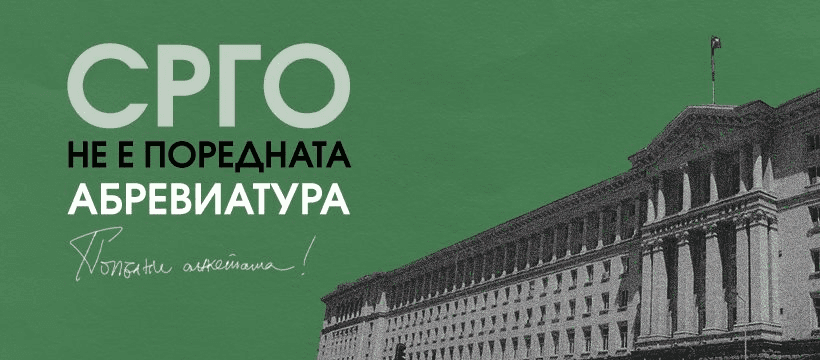 CSDC is not Another Abbreviation
Join the campaign of the RavniBG Coalition, initiated by the members of the association represented in The Civil Society Development Council (CSDC)- the Bulgarian Center for Non-Profit Law, Bulgarian Fund for Women, Association of European Journalists, Equilibrium Аssociation, and in partnership with the Impact Drive Foundation, PRO EUROPEAN NETWORK association, BlueLink – Civic Network, Civic Participation Forum, National Youth Forum.
FILL IN THE SURVEY!
The Civil Society Development Council (CSDC) was legally established in 2016. Since then, more than 6 years have passed, many governments have changed, dozens of discussions have been held, promises have been made, and meanwhile, the environment for the existence and development of civil organizations in our country has begun to shrink more and more and become unfavorable.
But at the beginning of March 2022, the Council was convened for the first time – two years after the elections for its members. We have started a difficult but long-awaited process – turning this open door into an open opportunity for civil control over the decisions that the government makes about civil society.
That is why it is extremely necessary for us as active organizations to determine together what the priorities for the state are in order to guarantee a favorable environment for the development of civil organizations in Bulgaria.
Participate to determine the direction of your efforts. It is up to us to transform the CSDC into:
a powerful tool for effective citizen participation;
a platform for communication between civil society and the government;
and a place to assert and protect civic space.
That is why we from the Bulgarian Fund for Women, together with our like-minded partners involved in organizing the initiative, invite you – the active civil organizations to participate in the campaign to determine the priorities of the state to guarantee a favorable environment for the development of civil organizations in Bulgaria.
How?
Get involved by voting for the priorities that will contribute to improving the environment where the civil society organisations operate. Share what you know best – what are the challenges your organization is facing, what does the government need to do in order to support you, and what are the priority areas in the sector where you have observations that the government needs to urgently intervene.
Your participation is key to CSDC's ability to put the authentic problems of your organizations on the agenda and will contribute to the preparation of a Strategy for supporting the development of civil organizations. Now is the time to be united. Because when we are many and speak with one voice, it can hardly be silenced.
Get involved – vote, share and become an ambassador for this joint effort of ours. Tell your colleagues from the sector and those in your locality about the initiative, and remember that only when we are together, we will achieve the necessary change.
Learn more at www.ngo.vote