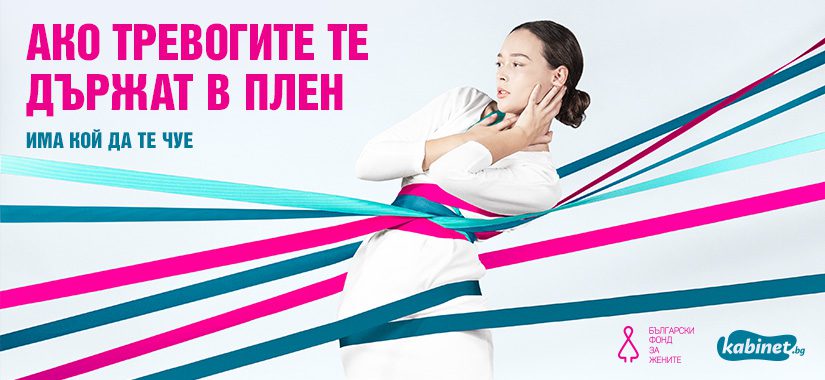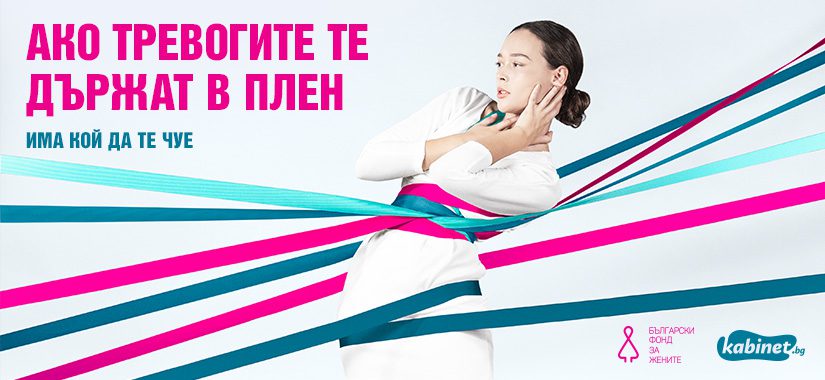 BFW and Kabinet.bg Launch New Program for Free Psychotherapy
Bulgarian Fund for Women and Kabinet.bg, а virtual clinic for emergency psychotherapy and emotional support, come together to meet the need for help, especially among vulnerable groups, after the mass trauma caused by Covid-19, the lockdowns and the isolation. Access to the program will be granted to any woman or girl facing difficulties or is at risk, and the assistance will cover people from all around in the country, as well as Bulgarians living abroad.
We mark International Human Rights Day, December 10, with the message that everyone has the right to their feelings and experiences, and to timely access to psychotherapeutic help and emotional support.
Over 80% of Kabinet.bg users have suffered a personal loss, have difficulties in their relationships, experienced increased anxiety, panic attacks or depressive symptoms unlocked in the last year;
Over 65% of Kabinet.bg users are girls and women aged 12 to 85;
BFW and Kabinet.bg believe that timely access to psychotherapy and meeting with an appropriate therapist can save up to 17% of the cost of follow-up medical care.
The Covid-19 pandemic has massively impacted the mental health of people around the world. The World Health Organization warns of a critical need for governments and the civil sector to start a conversation on the issue and support mental health.
The Bulgarian Fund for Women and Kabinet.bg join the WHO's call to put a stop to the negligence of the issue and for a launch of a long-term program of free support for women and girls in distress and at risk. The campaign was launched on International Human Rights Day, observed by UN member states over the past 73 years, with the message that every woman has the right to experience different feelings and to have access to timely psychotherapeutic help and emotional support.
In Bulgaria, there has been an unprecedented deterioration and severe, long-term effects of the pandemic on the psyche and emotions of women who play difficult first-line roles: teachers, health workers, mothers, daughters, employees without the option or right to a home office, entrepreneurs, women in the arts and freelance, and many others. In the past two years, every month at least one woman has died tragically and violently after years of unhealthy family circumstances of domestic violence. The campaign's messages emphasize every woman's right to feel the full range of experiences, including the most negative, without feeling guilty about what she is feeling or thinking, and to seek help from professionals.
We at the Bulgarian Fund for Women deeply believe that the campaign and the partnership with Kabinet.bg, which will provide free psychotherapeutic support to women and girls, are timely and extremely necessary.
From the very beginning of the Covid-19 pandemic, we were alarming the institutions and the public that women were likely to be disproportionately affected by it – reports of domestic violence and the number of women killed rose sharply during the first lockdown. We watched as the unemployment and poverty situation got worse, especially for women, and those who did remain employed bore a double and triple burden working in and out of the home and caring for children or elderly relatives.
We want to tell women that there is no right or wrong emotion or thought, that it is normal to feel anxious, to be scared, to be tired, to be angry, that you are not alone, no matter how you feel there is someone to listen to you," said Nadezhda Dermendzhieva, Executive Director of the Fund.
BFW also highlights the data recently released by the Prosecutor's Office regarding a triple increase in domestic violence cases in the first half of 2021.
In the past year, the Kabinet.bg team has conducted more than 4,500 sessions with clients between the ages of 6 and 85 – in person, via video, phone, chat and email. 65% of them are from outside Sofia – small towns, villages that lack social infrastructure and services, as well as emigrants and so on.
Reasons for seeking support from a psychotherapist include amplification of fears, panic attacks, self-harm, eating disorders, deteriorating relationships with family and at work, loss of a loved one, phobias, risky behavior, loss of work and income, violence. During the pandemic, which has been going on for nearly two years, there are long-term consequences at all levels of society, including loss of income, loss of meaning in relation to everything that has happened, mix up of reality and fantasy, a sense of invisible threat, a crisis of confidence and the burden to live in uncertainty and ambiguity.
"The Covid-19 crisis became a reason some of the prejudice and stigma towards mental suffering and help-seeking to become obsolete. Everyone needs to be heard and understood. Everyone experiencing mental suffering and pain has the right to be listened to by a professionally trained psychotherapist.
Many of the people Kabinet.bg works with have never had access to psychotherapy before. The data of long-term studies in the EU affirm that the success of professional psychotherapy is guaranteed in an average of 65-72% of cases, and in the EU countries where psychotherapeutic support is part of the health system, the expenses for general medical treatment drop by 17%, and visits to the doctor's office – up to 49% for people visiting a psychotherapist." – said Tsvetelina Yosifova, psychotherapist, head of Kabinet.bg.
You can contact a professional team of psychotherapists at www.kabinet.bg, toll-free number 0800 20 20 2 and email info@kabinet.bg, live for Sofia and/or in a video session. Sessions can be individual, family and group ones.
About Kabinet.bg:
Kabinet.bg is а virtual clinic for emergency psychotherapy and emotional support and it is a social service of the Bulgarian Society of Group Analysis and Group Processes (BSGAGP), an NGO organization of experienced professionals psychotherapists, with international recognition and extensive practice both in individual and group psychotherapy. The psychotherapists at Kabinet.bg have a solid professional experience, with competence in a wide range of issues: anxiety-depressive states (depression, phobias, panic attacks, intrusive thoughts), traumatic experiences and losses, gender and sexual orientation issues, eating disorders, addictions, childhood and adolescent behavioral problems, etc.